Intimacy From Afar – 5 Creative Ways Restaurants are Enforcing Social Distancing
We knew things would be different, but few of us were prepared for quite how different they would be.
Faced with social distancing measures – even as they shrink to 1 metre plus – many restaurateurs have been stumped as to how they could possibly turn over enough to make reopening viable.
Business has not been booming as some expected, and there is a clear sense that customers feel restaurants under post-pandemic restrictions are simply not as appealing as they were pre-COVID.
And that makes sense – so much of the traditional restaurant experience has been founded on a sense of intimacy and closeness. We go to restaurants for dates, to celebrate with family, and to convince our colleagues we actually like them as human beings.
Social distancing is literally the opposite of intimacy
But as is often the case, how you frame the problem is the most important thing here.
Some restaurateurs – and their marketing teams – have been able to see the creative opportunity social distancing presents, and have found fun, novel ways to enforce it.
When done right, creative solutions not only ensure customers remain safely socially distanced – they are actually amused and charmed by the measures.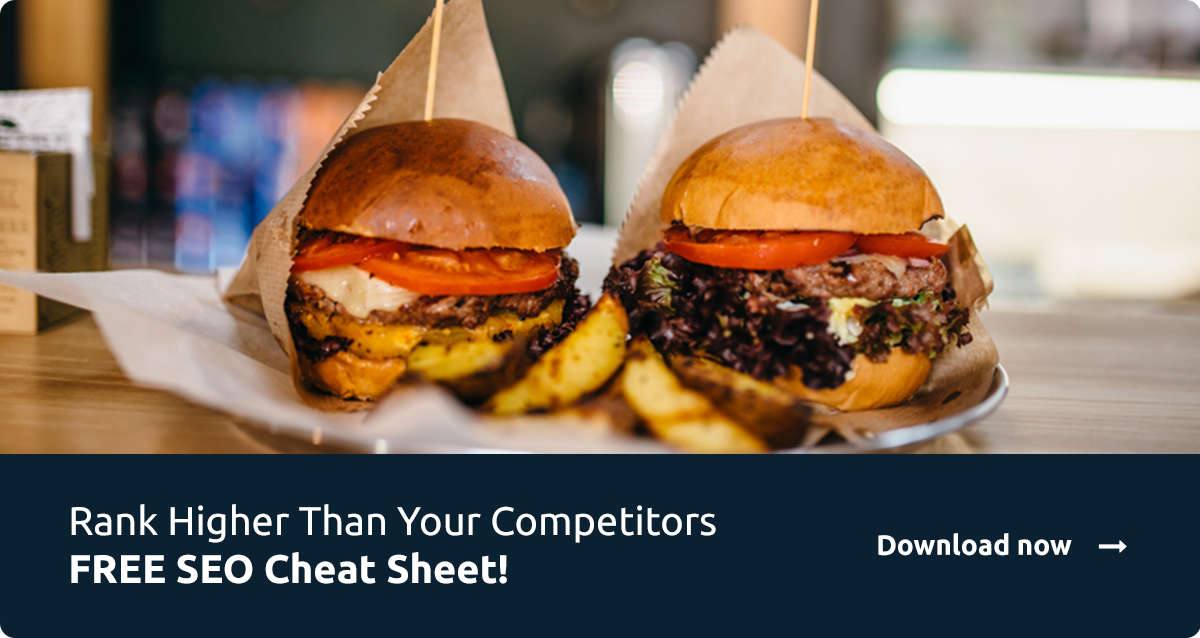 For some, these solutions might seem gimmicky and impractical, long term.. But here's the thing: social distancing won't last forever, either. And being able to jump the hurdle with a little extra energy and enthusiasm is a big, big deal.
Not only that: with an original, fun solution, many restaurants have actually gained some fantastic (and free) PR.
So to give our independent restaurateurs some inspiration as to how they might manage these tough months ahead, we've put together a list of our five favourite ways restaurants around the world are tackling social distancing in style.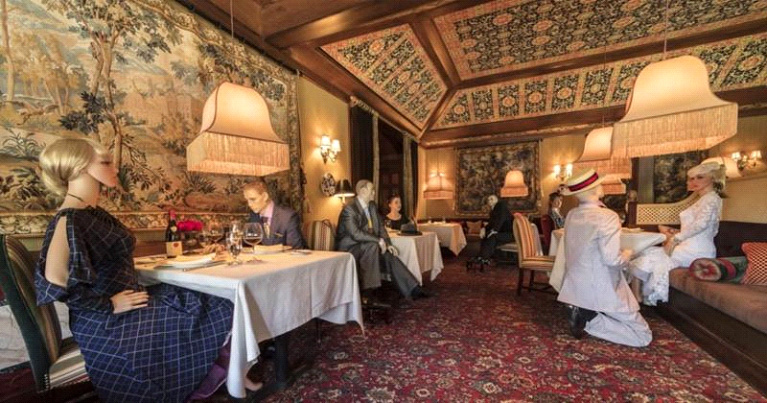 #1 A Touch of Class in Little Washington
With their refined, stylish interiors, Little Washington is clearly a classy restaurant. But so much of their high-end experience rests on the feeling of being part of a certain social milieu.
To plug the gaps left by social distancing measures, they decided to install arts mannequins. And while some might find that a little disturbing, the ingenuity and playfulness has been well-received by customers, helping them bounce back nicely.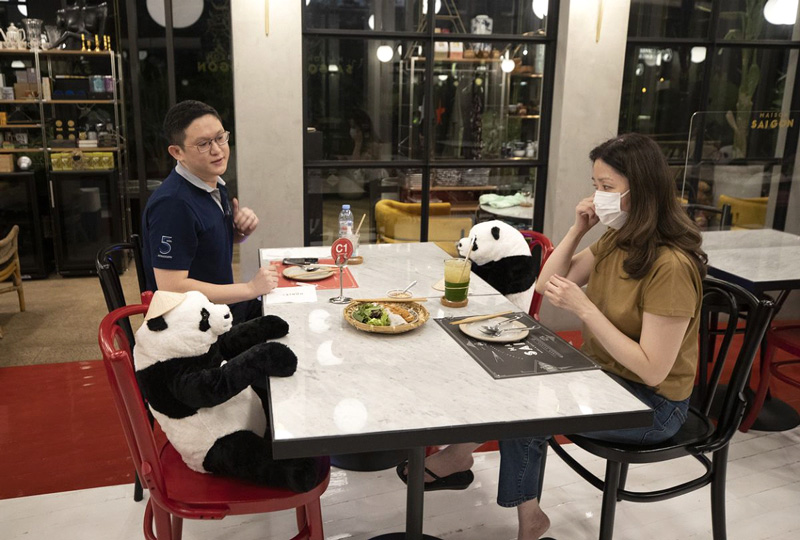 #2 Furry Friends in Bangkok
Understandably, not everyone wants to eat with plastic mannequins surrounding them. But a smart restaurant in Bangkok found a way to lure even more customers in – cute animal toys.
As silly as it sounds, with the popularity of things like Cat Cafes, there is a huge audience for this kind of thing. And it's certainly caused a bit of a stir.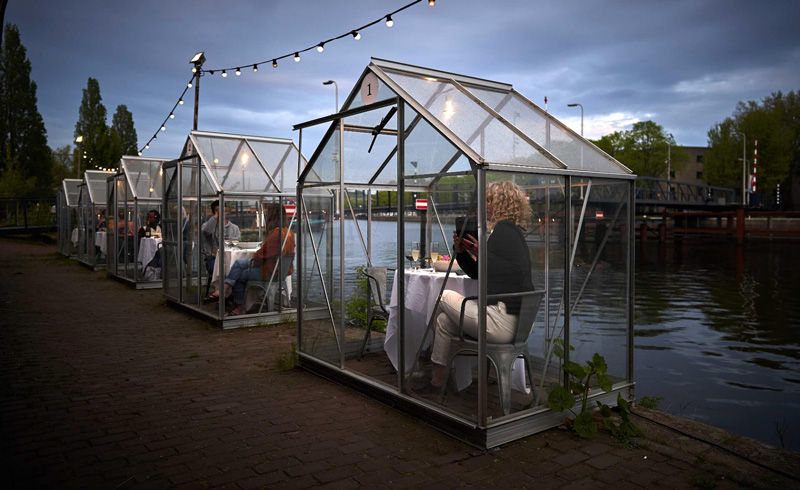 #3 Social bubbles in Amsterdam
For those looking for a more intimate, secluded experience, a Vegan restaurant in Amsterdam figured out a very 'on brand' way of giving their customers the space they need.
Fitting with their eco-conscious approach, they've erected miniature greenhouses which perfectly fit a pair of ethical eaters.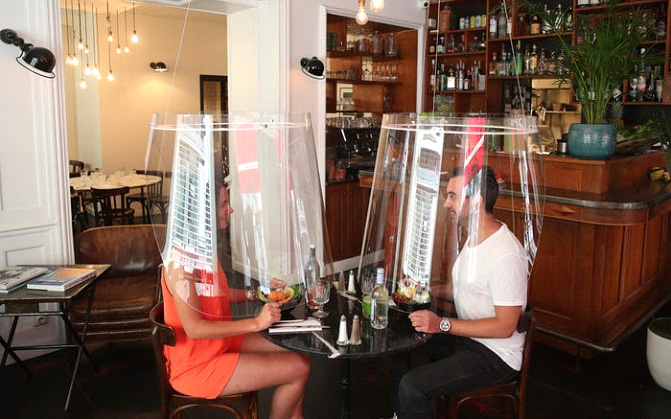 #4 Plastic pods in Paris
Plexiglass doesn't scream romance, but somehow this French eatery has devised the perfect design for a post-pandemic first date. Rather than feeling claustrophobic, it seems to create the ease and relaxation needed for restaurant goers to really enjoy getting to know each other.
Is there something between us? Well, of course…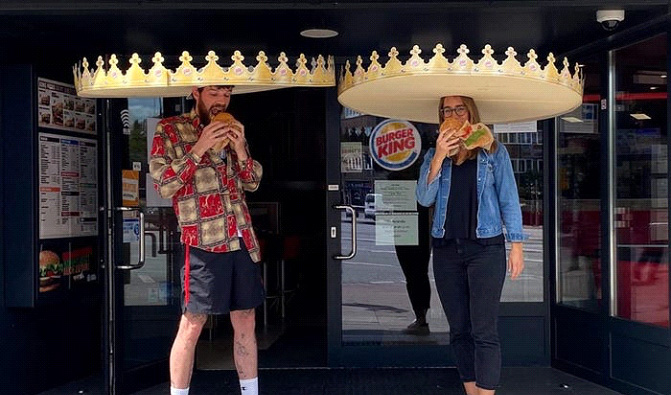 #5 Kings for a day at BK
Clearly, this is not everyone's cup of tea. But Burger King's novelty King hats – designed specifically to make breaching social distancing rules impossible – show how a business can take its existing assets and image and rewire it to a post-pandemic world.
And while some might scoff, BK's core clientele clearly love it.
---
Of course, there are tons more ways restaurants have been enforcing social distancing – these are just 5 of our favourites.
Each demonstrates a different approach, tailored to a different audience. a different brand and a different goal. And all of them appear to have been fantastically successful.
The key is not to imitate or copy – it's to take inspiration and expand your imagination. Because what works best for your restaurant will come from the specific clientele and décor you've got.
And if you need a hand getting a strategy in place or thinking a little further outside the box, never hesitate to get in touch and we can discuss how you can use creative marketing to rebuild your business.