Increase sales with these restaurant marketing ideas – Part 2
Put your own personality into your restaurant to separate yourself from others." We can hear you ask "What do you mean?
Well, in Part 1, we suggested that a common excuse restaurant owners have for neglecting their marketing is "I'm a chef, not a marketer". Sadly, irrespective of how far you may think you are located from the restaurant multiples, with their dedicated central marketing teams and huge budgets, they can bring themselves to the attention of your local diner with advertising, leaflet drops and glitzy promotions.
So as an independent restaurateur, you have to work, not so much harder as more cleverly than the multiples. The way you do this is by putting you into your restaurant. Your personality. This is something the multiples simply cannot do, because they have corporate governance and their own tried and tested ways of doing things.
And don't worry that you perhaps feel intimidated by the large-budgeted competition because they are "more professional" with their marketing endeavours. Professional is often dull, as the professional competition is very often fighting it out with other professional competition. So leave them to it, and you go ahead and stamp your own personality all over your business – but please, don't just make it all about you, as this can be very tiresome for the people who work with you.
We'll discuss this in further detail in future blogs, so meanwhile, back to some basics.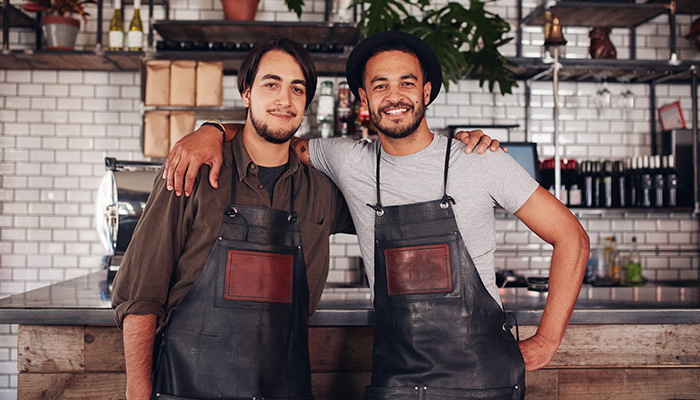 Make the best you can of table turnover rate
In Part 1 we mentioned keeping an eye on high-margin menu items for promotions. However, mention has to be made of the fact that, obvious though it may be, the more food you sell, the more profitable your restaurant will be. And again, without wishing to state too obvious a fact, the best way to sell more food is to serve more people!
While it's only the most foolhardy of restaurants that try to control how long guests take to eat their meal, there are ways of increasing the efficiency of your service without seeming too pushy.
You may care to try these out:
---
Have an organised seating system and ensure your tables are numbered. A simple thing like a "please wait here to be seated" stand and a reservation system is sometimes overlooked, and these can help manage your guest flow.
---
Keep all staff to schedule. Ensure you have enough staff to cope with the day's business and make sure drinks and bills are delivered to tables promptly.
---
If you can make use of technology, do. There are many and several software and hardware systems, to suit all budgets that will make the management of your service schedule much easier.
---
Manage your restaurant layout and seat your guests tactically. Couples and small parties at smaller tables to leave room for the unexpected or booked larger parties.
---
Compact your menu or rotate your dishes. This makes it easy for all staff, especially the kitchen.
Consider a bulk buy to offer as a special
Supermarkets do it. Window companies do it. Carpet outlets do it. The BOGOF (buy one, get one free) or multibuy offer. So why shouldn't you do the same? However, you adapt rather than just use the concept, because it's not quite the same for a restaurant, and the last thing you want to offer is something that means a customer eats totally for free. You need to look at it slightly differently. In Part 1 we mentioned the loyalty card. Or perhaps you can go down the "classic" route of offering a discount off something (£5 off a £50 meal) when a purchase threshold is reached, which is always popular.
You need to ensure you don't want to cheapen your restaurant's image or cost yourself too much money in the process. Perhaps you might have the opportunity of a special offer at your regular wholesaler (as an example, free mixers for a set purchase of bottles of spirits). You can then pass this as a special offer to the customer at a much lower cost to you than if you took the initiative to discount or offer it free yourself. It's all about seizing the moment.
Enhance your mobile presence
People are increasingly accessing the web via their mobile devices, especially for that "impulse purchase", which can often include a last-minute restaurant meal. You need to be up there. You must make sure you have technology working at its most efficient for you with a website that works as well on a smartphone or tablet as it does on a traditional computer. You don't have to spend a fortune and you don't need to have an all-singing-all-dancing website full of special effects. Just make it look as good as your food tastes, ensure it functions well, that people can easily see the important messages you may have and that there is a mechanism for them to make a reservation.
Did you know that mobile searches now outnumber desktop searches when diners are researching a restaurant? That is why every website we build is optimised for a mobile user experience.
It's also worth considering supporting your website with social media accounts. You don't need to be on every Tom, Dick and Harry social media platform (this time we do concede you are a chef and not a computer operator!), but try and establish yourself on the regular ones that perhaps businesses in your locality use – usually Facebook, Twitter and Instagram for starters. Have someone in the family or even a member of staff co-manage your restaurant social media accounts.

When you have set them up, use your social media accounts as a conduit for your business announcements, special offers, special events, opening time amendments, but importantly, make them all personal and human. Use them regularly to 'talk' to the customer and prospect. And if you have been earmarked on one or more of the restaurant or tourist review platforms, make sure you respond, especially to any criticisms.
The thing to remember is that people will search for you. It's as easy as "Oh, remember the Acme Restaurant we passed yesterday . . . . let's see what they do and if they have a table for tomorrow."