Tips on how to effectively manage your restaurant's reviews
Bad reviews can cripple your restaurant if left with no response. In this article i'll show you how to effectively monitor, respond, and manage your restaurant's online reputation on a day-to-day basis.
As the owner of a restaurant, you will undoubtedly have witnessed that many people in the UK still demonstrate a marked reticence to complain at their point of purchase. This means that instead of offering you the opportunity to instantly respond to, or correct, what they may consider a "blip" in your service, they tend to bottle it up and leave.
Some will complain to their friends and family rather than directly to you. These people in turn will tell their friends, and before you know it, tens of people will have the completely wrong impression of your restaurant, on the one hand without visiting or knowing anything about your restaurant, and on the other, not giving you the right to reply or allowing you to try correct the alleged problem at the time of purchase.
Thanks to the "internet of things", a new elephant has entered the room – the online review. While the best-known of all is undoubtedly TripAdvisor, there are also others such as Yelp, Zomato and of course Google. And there is also the response mechanism people use if you have a presence on social media sites such as Facebook, Instagram and Twitter
While online review websites do encourage customers to give an honest review, they are the perfect way for people to have an otherwise non-confrontational moan at what they perceive to have been a bad experience. While objectivity is always encouraged, seeing as how they write the review from their own experience, they are usually very subjective, especially when it involves a complaint.

For the restaurateur, it is less than helpful to their business for a customer to make the internet their first port of call for a complaint, rather than speaking to them directly in the first instance during or immediately after the meal in question. Neither does it allow the owner the opportunity to make a suitable response or reparation (if appropriate) on the spot.
What this then means is that the restaurant owner must add the monitoring of online reviews to their portfolio of business functions.
A very good method of monitoring poor reviews online is to use the "3A" system: Acknowledge, Accept and Apologise.
---
Acknowledge
A bad review will undoubtedly make you angry, but don't let it get to you. As contestants say to talent-show judges on televisions, take on board what the customer-reviewer has said. Don't rush to your own defence and whatever you do, do not engage in an online war of words. Thinks about what has been said and, most importantly, investigate with staff to ascertain that it was a genuine concern in the first instance.
---
Accept
Once you have undertaken a review and assessed it fully, accept it, while at the same time thinking in terms of a remedy. Reply professionally and gently, and if it was a genuine blip, apologise, making sure you do not leave yourself open to anything that might be misinterpreted or seen as a free-for-all. And even if you find the review wasn't as authentic as it at first appeared (good signs are highly-anonymous reviews or reviewers discussing things that don't appear related to your restaurant, reviewing lunch when you don't actually open for lunch service, serving drinks or food you don't offer) still reply professionally and politely – if you do establish it is utterly fake, get in touch with the review site with your proof and ask it to be taken down. And don't forget that some people do make a habit of one-star reviewing everything and anything, not just your restaurant.
---
Apologise
When you apologise to the customer, try and provide a solution, but don't reply with that most-hated of statements we all hear CEO's of huge, faceless corporations make when confronted on television consumer programmes, namely "customer service is our first priority" – it's not! Providing excellent food is you first priority! Do bear in mind how you reply and what you say will reflect on your restaurant and on you as the owner. A well-constructed and caring response will do the job to demonstrate you are a business – and a brand – that cares for their customer.
---
However, it is not just bad reviews that should be monitored and responded to as quickly as possible. You should also acknowledge positive reviews and mention that you look forward to welcoming them to your restaurant again.
Customers tend to trust and respect online reviews, and you will find that research seems to indicate that around 95% of customers will read an online review for your restaurant, with as many as 20% reading a review on their smartphone when they are actually in your restaurant waiting area. And these reviews can help make or break a restaurant's success. This is all the more reason why it is vital for you to manage the review process.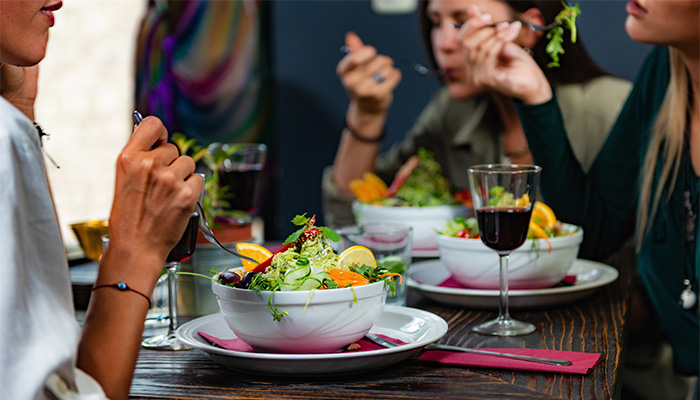 Remember, people love being heard, and if you acknowledge that, your business will be seen as one that engages with its customers. And you also have to remember that not everyone can be pleased all of the time, and you will, unfortunately, come across the serial complainer or whom nothing will ever be right or can be put right.
Manage your reviews (and your social media) as a team. Ensure all staff are made aware of comments and perhaps allow half an hour a week (or more if you have a very active online presence) to discuss any problems that may come to light. Also, many minds can make lighter work online, so don't be afraid to delegate.
Conclusion
Ignoring a bad review is one of the worst things you can do, so responding can and will improve your reputation.
According to a recent survey Harvard Business Review study of hotel reviews on TripAdvisor, when hotels respond to negative reviews, they generally receive 12% more reviews, and their rating subsequently increases positively.
And the same is probably true for restaurants.
Hopefully from this article, you've learnt some useful tips and tricks in mastering the arts of managing your restaurant's reviews more effectively and you should be far on your way to accumulating that lucrative 5* rating that all restaurateurs desire!