Telling Your Story – 5 Ways Restaurants are Succeeding on Social
71% of consumers who have a positive experience with a brand on social media are likely to recommend the brand to their friends.
In last week's edition of our series on storytelling, we began exploring why social media is such a powerful tool for restaurants to communicate with the public. From enticing new customers to building a reputation and spreading your story, the benefits are clear.
The problem then becomes: how do you ensure your restaurant enjoys those benefits?
Everything that makes social media so powerful – its scope and freedom – also makes it difficult to 'game' and stacks the odds against any individual hoping to leverage it to their advantage.
Simply put, making your mark on social media is extremely difficult. And while many marketing firms will claim they have 'the answer' to this problem, we're a little more humble.
We've got experience helping restaurants succeed on social media, sure. But the truth is, every restaurant is different and what works for you on social media has to be an organic product of the story you're telling.
That's the whole point of this series – to help you find your story and give you inspiration on how to tell it.
So we're not going to throw a bunch of half-baked 'tricks' at you. Instead, we're going to look at what really works – using some great, illustrative examples of restaurants crushing it, and extracting the key lessons from each example.
Give 'em something to talk about
As we discussed last week, having your customers actively want to share content from your restaurant – photos, reviews and the rest – is great. But to make this happen, you need to give them something worth sharing.
Take Sketch – a really cool London mini-chain which uses social media as a way to show off its incredible interiors.
Their bathrooms have become something of a 'thing' – they actively encourage customers to take selfies in them, and the results are often incredible.
Respond. Always.
Once you've got customers actually posting their own content and tagging your restaurant, it would be rude to just ignore it.
We know, for example, that 84% of customers come back if a restaurant responds directly to their feedback. So responding to social media posts – even if it's just a 'thank you', can be powerful and show that you actually care.
Leon is a great example of this: they reply to the vast majority of its twitter mentions. Which then encourages people to mention them. Which they then reply to.
You can see how the positive feedback loop goes.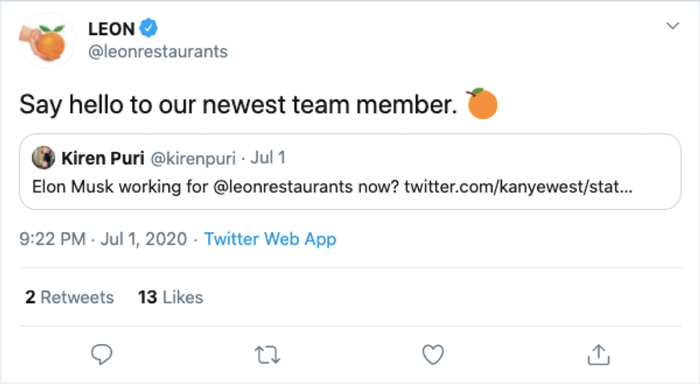 Praise Your People
Particularly for smaller restaurants, social media provides an opportunity to build a more human image.
The Other Naughty Piglet have done some super smart, effective social campaigns to drive local business. But they also use their sizable following to give individual employees a big shout out – which is both hugely endearing and demonstrates something about their ethics.
Timing is everything
One of the great things about social media is its sheer immediacy. Part of this is the possibility for direct customer engagement, but just as important is the ability to create Realtime relevant posts to give your audience a little nudge at the right moment.
Sunset – one of Manchester's many premium restaurants – shows how to tap into a mood. Sometimes all you need is a simple message:
Whether it's a holiday or just the end of the week, giving people a reason to visit your restaurant is never easier or more effective than on social media.
Tap into culture
Restaurants don't have to stand for anything, and sometimes trying to make a point can seriously backfire. But when done right, restaurants that tap into the beliefs and values of their audience gain a kind of support which is impossible to get any other way.
For International Women's Day, Menagerie went above and beyond to signal their support:
The response, as you can imagine, was very positive indeed.
Social media gives you the opportunity to get immediate feedback, allows for a continuous evolution of your approach. We hope that these examples have shown you some of the range of ways restaurants can use social media to their advantage and will help you tell your story better.
If you ever need help finding what that story is and telling it more effectively, please feel free to reach out and have a chat with us about how we could help build your business.